On the heels of one of the largest monetary trade between teams in baseball history -between the Red Sox and Dodgers -I have finally shut the door on the 2012 baseball season. Now I know the trade was supposed to help to bring Red Sox Nation together and spark some interest in a truly unlikeable team, but I have watched as much of this train wreck as I can.
At the end of the 2011 season, a September that saw a monumental collapse, I didn't have an issue with "chicken and beer", I certainly didn't have an issue with the Manager, I didn't point fingers at The GM...I could point to one thing and one thing only -EGO! The 2011 Boston Red Sox bought their own press-they believed they were the "Best Team Evah" and didn't think they really needed to show up to play or win games. So they didn't. I had a real problem with how Tito Francona left this town and still do--it was unnecessarily ugly and rotten--and completely undeserved. Perhaps it was time for him to go but but NOT that way.
OK new season, new manager, 100th anniversary--let's feel better! Never happened, and never could. Bobby Valentine was the wrong guy for the wrong time but I can't blame him. Injuries, sure that can derail any team with any coaching staff...but 2012 was just September 2011 with 100th anniversary banners. The players were pretty much the same and the attitude of entitlement and arrogance deepened. One would think, and we all expected, after the largest collapse in Red Sox history that there would be some humility, some sense of "we owe it to everyone including ourselves" to make up for last season---somehow the disconnect never got reconnected and this season has been like Days of Our Lives night after night after night. I hung in there, I really did, having grown up with this team it is in your Red Sox Fan DNA to do that--but last week ended it all for me.
Johnny Pesky was the personification of the Boston Red Sox, more than just a former player and certainly more than a beloved elder statesman...he had seen it all and no one but no one was happier in 2004 than Mr Pesky. His passing was not a shock but a loss for anyone who has ever watched a Red Sox game and certainly for those who wore a Red Sox uniform. So to hear that only 4 current players attended his funeral-well that defined the "you guys don't get this do you" 2012 season for me. Sorry fellas but that is where you lost me.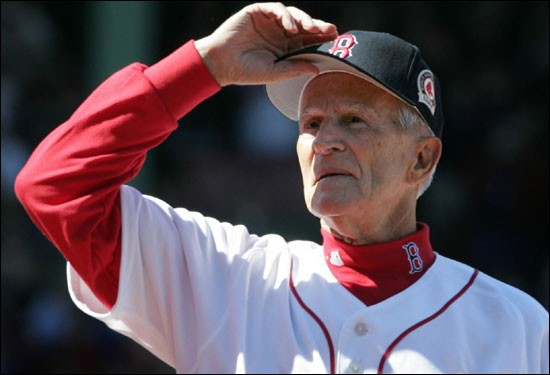 So... for the next couple of weeks til The Patriots take the field I will choose my baseball fictionally. Instead of playing out the string with a team I can't care about I'll be watching popcorn style-